5, Sveta Nedelya Sq.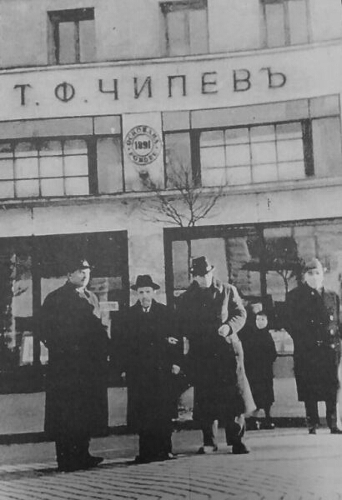 At the closing of the 19th c., on the former Dondukov Blvd, close to Sveta Nedelya Sq. stood the Balkans' largest bookshop – that of the prominent Bulgarian publisher Todor Chipev. Starting as an itinerant bookseller, in 1889 Chipev moves to Sofia and opens his first bookshop in 1891, in a small pavilion in the Municipal Garden. His connection with the patriarch of the Bulgarian literature, Ivan Vazov, and the chance to publish the first richly illustrated Bulgarian novel "Under the Yoke" as book in 1894, contribute to the growth of his publishing business.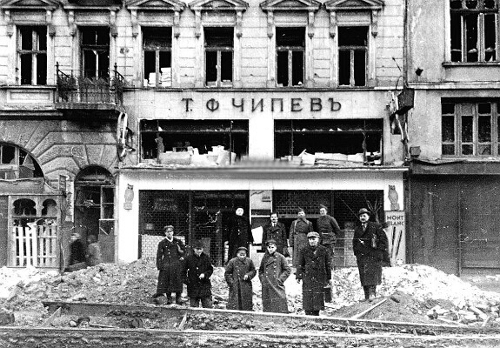 At the end of the 19th c., Chipev moves his bookshop and publishing house to a monumental building sprawled over two of the Dondukov Blvd lots. (nos. 20 and 22). Rising five stories high, with two large, tastefully arranged windows tempting the readers, the bookshop soon becomes one of the prominent cultural hubs of Sofia. Todor Chipev's operation expands and thrives. In almost 50 years, he publishes more than 500 volumes of Bulgarian and foreign authors, upholding the confidence of his fellow citizens that if Chipev doesn't carry a book, no one carries that book.
The March 30, 1944 bombings on Sofia seriously hit Chipev's bookshop and publishing house. The building is almost entirely destroyed. Tens of thousands of books perish in the fire – almost everything the publishing house had. Despite the disaster, Chipev fixes a tarpaulin to the front of the ground floor and the bookstore reopens with the preserved stock. However, later in the year Todor Chipev dies. His sons continue his lifework for a few more years, until in 1949 the publishing house is officially liquidated. The remnants of the building of the largest bookshop on the Balkans are demolished during the preparation for the construction of the Sofia Largo. Today, in its place is the north-west wing of the monumental complex housing the Presidency and the Ministry of education.