Baba Nedelya Sq.(today Balgaria Sq.)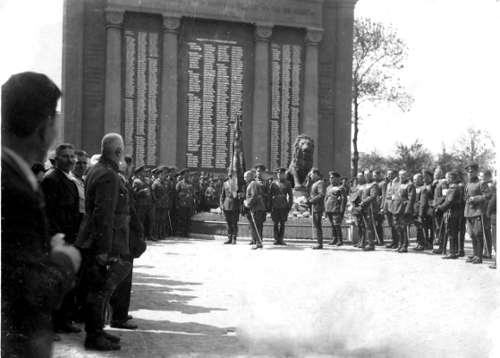 In the 1930s, Bulgaria emerged from the post-war crisis and revisited the near past, to honour her heroic sons. On October 28, 1934, was consecrated and ceremonially unveiled a monumental memorial to the fallen on the battlefields of the wars for national unification servicemen from 1st Infantry Sofia Regiment and 6th Infantry Tarnovo Regiments. The U-shaped structure envisioned by Arch. Alexander Obretenov occupied the central area of the Infantry Barracks, where three enamelled commemorative slabs (21 by 11 m large), were inscribed with almost 3000 names. Each slab featured a different motto: the inscription on the central one read: "Blessed Are You By The Motherland – Memory Eternal". A focal point of the composition was a bronze statue of a lion, holding a map of Bulgarian ethnic territory. Gradually, the monument assumed the functions of a Pantheon, at which solemn ceremonies were held and high-ranking foreign dignitaries would be welcomed.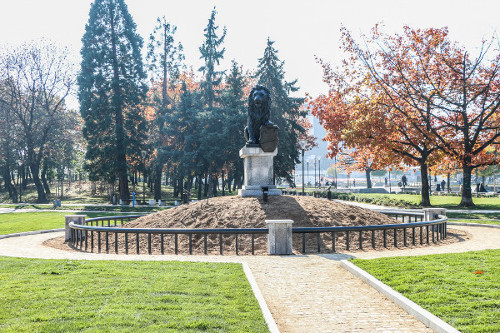 Allied bombing of Sofia on January 10, 1944, inflicted heavy damages to the neighbourhood of the Barracks. The right wall of the memorial was shattered, the central one partially afflicted. The surviving slabs were removed during the second half of the 1960s, for the construction of the Lada Fashion House and of the National Palace of Culture (1980). The lion sculpture, the existing documents, and the architectural decoration were conferred onto the National Museum of Military History for preservation.
By resolution of the Municipal Council (2014) for the monument's restoration, in November of 2017 the bronze lion was blessed and reinstated to its original site, with military salutes to the he fallen service personnel. At its base was entered a casing with soil from the Military Tomb – 1916 memorial at Tutrakan.