2, Narodno Sabranie Sq.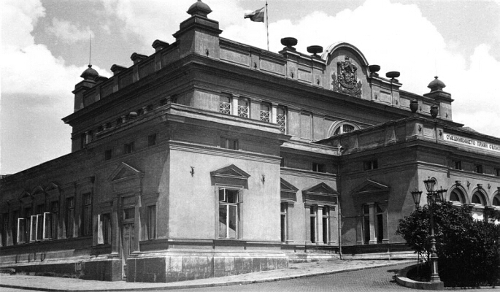 The building of the National Assembly is one of the first public buildings raised after the Liberation. It is designed by Konstantin Jovanović (1849 – 1923) – an architect of Bulgarian ancestry, born in Belgrade. In 1881, he is commissioned by the Minister of Education, Konstantin Jireček for the Sofia and Lom schools for boys. While in Bulgaria, he is also appointed to develop a project for a building of the National Assembly in Sofia. Jovanović presented his Neo-Renaissance styled design on May 7, 1884, and 16 days later the amount of 220,000 francs for the construction passed the vote on the Parliament's floor. On November 25, 1884, Prince Alexander I, the Tarnovo Metropolitan Clement, and the Chairman of the National Assembly Stefan Stambolov, ceremonially lay the foundation stone. Construction works and furnishing continue until 1886, supervised by the Chief Architect to the Public Works Directorate, Arch. Friedrich Grünanger and his assistant Josef Prosek.
Between 1896 and 1899, to the north side of the building is added a two-storey extension for the administration, the project for which is signed by the Deputy Head of the Architectural Department to the Ministry of Public Buildings, Roads and Public Works (MPBRPW), Arch. Jordan Milanov. In 1925, commences work on the three-storey north wing, with waiting room, lobby, and space for the archives, which ties up the building's face to St. Alexander Nevsky Sq. The architectural project of Arch. Panteley Tsvetkov is ratified by Arch. Pencho Koichev (1876 – 1957), then Head of the Architecture Department at MPBRPW.
The building's composition is based on the principle of axial symmetry – with a centrally located plenary hall, space for recess and a buffet behind it, forked lobby with conjoined offices and stairwell leading up to the plenary hall's gallery. The main entrance opens symmetrically in the National Assembly Square façade. The main foyer has an explicit ceremonial atmosphere, lit by an oberlicht. Materials for the interior decoration and furnishing are imported from Austria-Hungary, the Czech lands, etc. The authentic pillars and other stone elements survive to date; the original timber roof is not preserved. Designed in the Neo-Renaissance style, despite the numerous interventions the building retains the original form and atmosphere of its interior.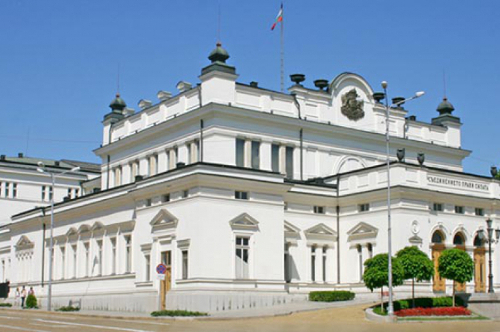 The parliament building suffers minor damage by the January 10, 1944, bombing raid on Sofia. By the next year, it is repaired and restored. 
Partial renovations are undertaken also in 1962, when Slavonian oak panelling is installed; and in 1977 and 1985, when the furniture is reconditioned. The addition of the building to the national register of cultural monuments is announced in iss.73/1955 of the Izvestia newspaper. A National Institute for Cultural Monuments's (NICM) letter No 1787 / 21.05.1976, declares it a historical and architectural cultural monument in the category "of national import".