5, Dyakon Ignatii Str.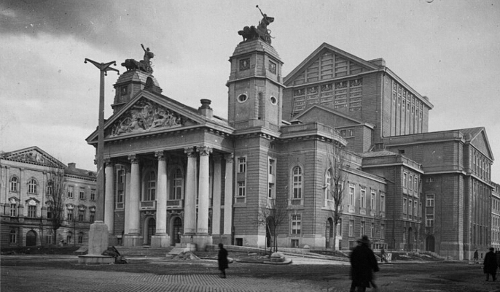 One of the most beautiful building of the Bulgarian capital, informed by the reigning European trends, is The Ivan Vazov National Theatre. The initiative for its construction dates to the beginning of the twentieth century, when a July 14, 1903 Directive of the Minister of Public Education, Dr. Ivan Shishmanov appoints a committee headed by the quartermaster of the Bulgarian National Theatre company, Iliya Milarov. It is tasked with putting together a proposal for the construction of a building for the National Theatre in Sofia. The lot of the Osnova timber theatre is expropriated by resolution of the National Assembly and a decree of Prince Ferdinand I, and work begins in June of 1904. It is designed by the then Europe's foremost experts in theatrical buildings, the Austrian architects Ferdinand Fellner and Hermann Helmer. The building is decided in the style of the Viennese Baroque and fitted with state-of-the-art stage equipment. Rudolf Fuchs from Vienna, is commissioned to decorate the ceiling and the walls of the 848-seat great hall. The central entrance is accentuated by an elegant colonnade of six slender Ionic pillars, supporting a triangular pediment with figurative sculpted composition of Apollo surrounded by the Muses. Details of the composition are accentuated by skilled gilding. Metal carts upon the roof reinforce the formal image of the theatre.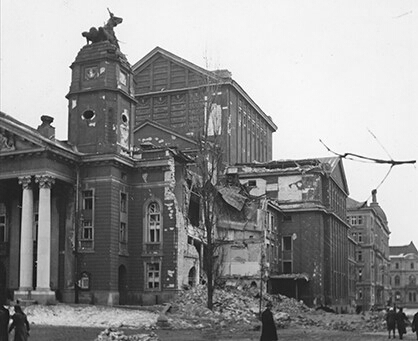 The National Theatre opens doors on January 3, 1907. Over the following years, many of the pioneers of Bulgarian theatrical art perform on its stage. On February 10, 1923, a fire brakes during a performance, destroying it. Between 1924 and 1928, the building undergoes comprehensive reconstructions, directed by the German architect Martin Dulfer. It receives a new reinforced concrete structure and Krupp and Mann stage mechanisms delivered from Germany – to this day essential part of all Main Stage productions.
The Second World War bombing raids on Sofia by the British–American aviation destroy the building's south wing. A year later, the building is restored and from April of 1945, the National Theatre once again welcomes audiences. The latest reconstruction and restoration took place between1972 and 1975, when to the building is added a chamber hall. Full reconstruction of the original exterior, and extensive revisions of the interior are carried out. Authors of the new artistic scheme are Dechko Uzunov, Georgi Chapkanov and Ivan Kirkov.