St. Alexander Nevsky Sq. and 1, February 19 Str.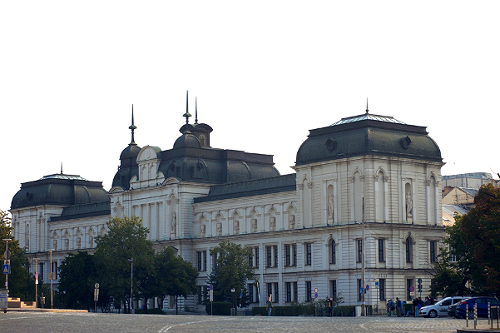 One of the first representative buildings after the Liberation is the State Printing House, erected by a proposal of the Prime Minister Petko Karavelov. Designed by the Viennese architect Friedrich Schwanberg in Neoclassical style, it is completed in 1887. In the 1920s, on the grounds of its courtyard is raised a building for share use by the State Secondary Printing and Graphic Arts School and the Ancillary Graphic Crafts School. Until 1944, the State Printing House prints the government publications, the State Gazette, official papers, securities, etc.
In the British-American bombing raids of March 30, 1944, the building is partially destroyed; the classrooms, the workshops and the school archives burn. After the end of the war, the building is fully restored and accepts the State Polytechnics. Its present form, adapted for a contemporary gallery, is designed by the celebrated Bulgarian architect Nikola Nikolov.