Russian Monument Sq.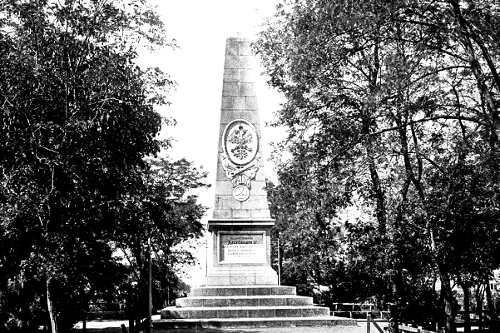 The monument at the centre of the roundabout at the intersection of Macedonia, General Totleben and General Skobelev boulevardsis the first monument erected in Sofia after the Liberation of Bulgaria in 1878. Built between 1880 and 1882, with funds raised by the Russian people – about 25,000 gold LEVA, it is located on the then undeveloped territory outside the capital – on the Knyazhevo road, taken by the retreating Ottoman troops after the Liberation of Sofia. The name of its architect is lost, but theories attribute it to either Arch. Vokar (active at Constantinople) – entrusted with the design of all other early Russian monuments in Bulgaria, or the Russian academician Vladimir Osipovich Shervud – author of the Russian monument at Pleven.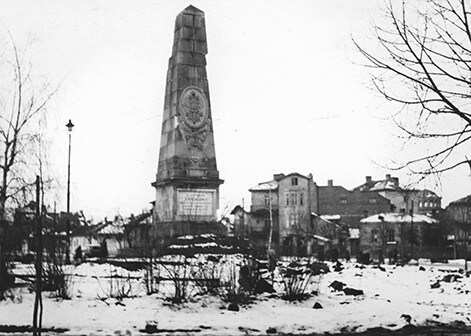 Ceremonially unveiled by Prince Alexander I on June 29, 1882, the monument is soon dubbed by the contemporaries "Monument to the Tsar-Liberator Alexander II". The title persists until the dedication of the monument of Tsar-Liberator opposite the National Assembly in 1907, when the citizens of Sofia gradually begin to refer to the Knyazhevo road monument simply as Russian.
The Russian monument is a ten-meter high obelisk of white cut sandstone. The east and west sides bearing the inscriptions and the marble reliefs of the Russian coat of arms and the Russian military order of bravery St. George are faced with white marble slabs.
At the turn of the 20th century, the monument gradually emerges as a focal point of the urban plans for this part of Sofia. On the eve of the Second World War, the monument already marks the border between several densely populated metropolitan districts. In 1944, the monument suffers damage from the Allied bombing raids – a blast wave dislodges its tip. Shortly after the war, it is repaired and becomes one of the new regime's most iconic urban sites.