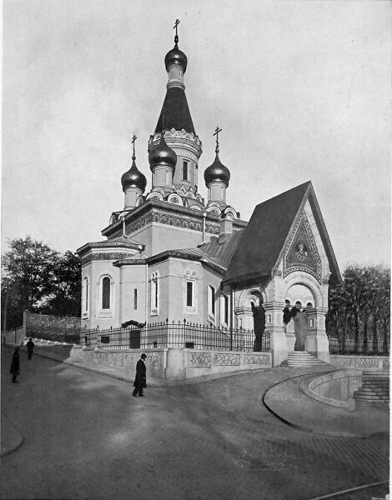 3, Tsar Osvoboditel Blvd.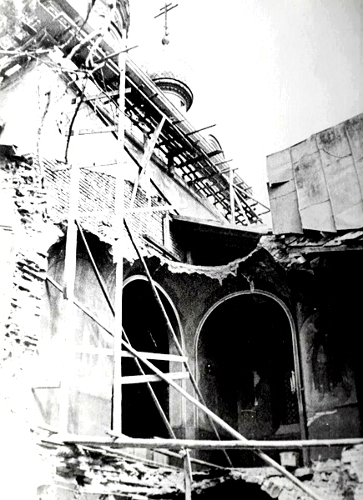 One of the most attractive buildings of downtown Sofia – the Russian Church St. Nicholas, is designed by Arch. Michael Preobrazhenski. Consecrated in November of 1914, it was incorporated within the compound of the Moskovska Street residence of the Russian Ambassador.
Though small, the chapel boasts five gilded onion domes, characteristic of the developed in Moscow Russian tent roof style of the 18th and 19th century. The rich exterior decoration, with multicolored ceramic friezes, is complemented by the Majolica icons of St. Nicholas and St. Alexander Nevsky. Lead painter for the interior murals in the style of the Novgorod School was the Russian painter Vasily Perminov. Although executed in the traditional Muscovite style, the glazed ceramic iconostasis is rather a remarkable expression of the spirit of the Prague and Vienna Secession. The bells were gift from the Russian Emperor Nikolai II.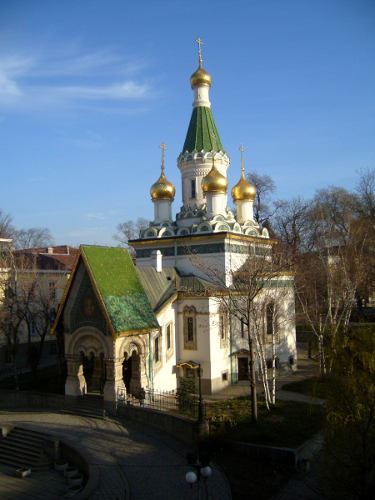 During the Allied bombing raids of the spring of 1944, the temple suffered considerable damage: its roof collapsed, the south wing with its murals were completely destroyed. The 12 million LEVA cost of the repair of the damaged murals was assumed by the Bulgarian government.