2, Patriarch Evtimii Blvd.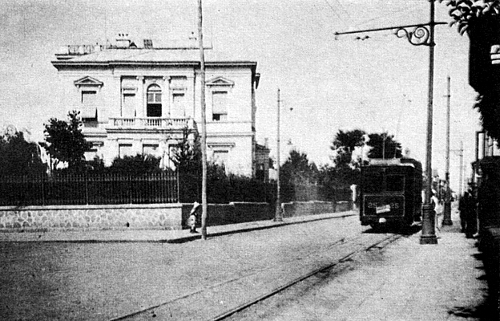 The house of the municipal engineer Mikhail Momchilov and his Austrian wife, Baroness Philippines von Gleichen stands proudly from the throng of beautiful buildings remaining from the late-19th-century Sofia. Momchilov completes his education in Dresden and returns to Bulgaria after great success in Europe, including a collaboration with none other than Gustav Eifel. In Sofia, he quickly embarks on a series of projects, including the construction of the capital's sewage system and the establishment of the Bulgarian Engineering and Architecture Society. The design of his personal residence, though, he entrusts to his brother – Arch. Petko Momchilov – educated in the Czech universities and author of a number of Sofia's landmark buildings, including the Central Mineral Bath, the Holy Synod's Palace, Alexandrovska Hospital, etc.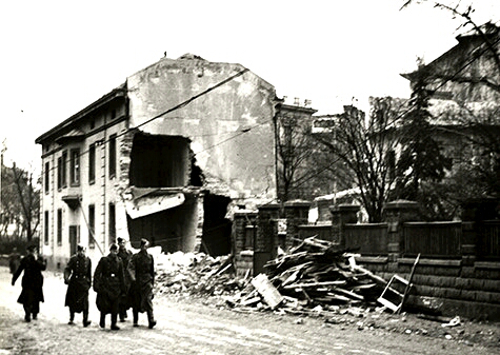 The impressive building in the style of the Late Mediterranean Renaissance is completed in 1889, providing the set up for an extravagant welcome reception for the new 20th century, remembered by the contemporaries for the home's elegant interiors and the plethora of refined meals.
Almost four decades later, the descendants of Eng. Momchilov sell the house to the German Legation in Sofia. The new owners add an extension on Graf Ignatiev Str., but preserve the architectural proportions of the building and keep true to its monumental presence. In 1941, the Minister plenipotentiary of the Third Reich for Bulgaria – Adolf-Heinz Beckerle moves in.
The new functionality of the building make it a primary target for the late 1943 – early 1944 Allied aviation bombing raids. On January 10, 1944, the sweeping carpet-bombing levels most of the newly added Graf Ignatiev Str. wing as well as numerous buildings in proximity – the unfortunate neighbours of the German Legation. After the end of the war, the damages are hastily fixed and in the building moves in the USSR Trade Office. Though the façade is spared significant disfigurements, the appeal of the building, ceded to the Sofia Municipal Notary Office in the early 1980s, progressively declines. In 1978, the building is officially declared a cultural monument of national significance and in 1999 is restored under the Beautiful Bulgaria project. Today, housing divisions of the District Court, the building is once again falling into disrepair and is in need of urgent conservation.