12, Tsar Osvoboditel Blvd.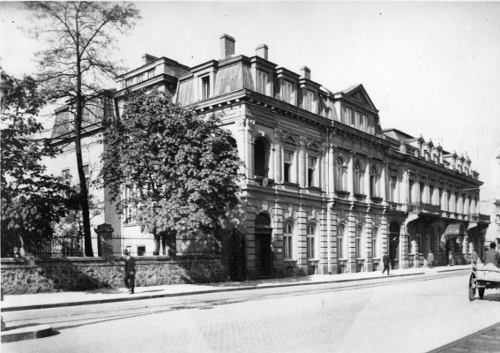 The Neo-Renaissance building was part of the harmonic architectural ensemble which took shape at the turn of the 20th c. along Sofia's Tsar Osvoboditel Blvd. – between the building of the National Assembly and what is today the Military Club. Other members of this ensemble include the home of Iv. Ev. Geshov, the former buildings of the Foreign Ministry and the Italian Embassy (today the Bulgarian Academy of Sciences and the Austrian Embassy, respectively).
Its two open terraces, brimmed by wrought iron railings, livened the austere façade, characterized by rusticated facings and tall slender arches of the ground floor, complemented by the rhythmically arranged pilasters and French windows of the first floor. At the same time, the terraces 'winked' at the façade of the embassy across the street. Originally, the property included a large garden with fronts on September 6 and Aksakov, but by the early 20th c., in its place, with a front on the prestigious Tsar Osvoboditel Blvd. rose new apartment buildings.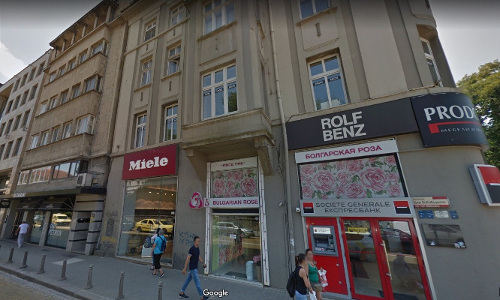 Likely because of this, in 1923 Dr. Slavchev commissioned Arch. Georgi Fingov – one of the most successful Bulgarian architects, who had received their education in Vienna, to design for him a new home, on the quiet Ivan Vazov Str. (at no. 23), next to the family home of his daughter, Maria Karakulakova. It is at the home of Col. Karakulakov, at 27, Ivan Vazov Str. that the final organizational meeting of the leaders of the June 9th 1923 coup took place.
The building on 12 Tsar Osvoboditel was leveled by the bombing raids of January 10/11, 1944. Today, in its place stand office buildings.
After specializing at Moscow, Paris, and Vienna, at the end of the 19th c. Dr. Slavchev already had established his reputation on the local scene. He was one of the founders of field of obstetrics and gynecology in the country, had introduced a number of innovative surgical procedures and organized cancer prevention. With Dr. Sarafov, MD., in 1900 he opened also Bulgaria's first private sanatorium – where in 1906 died the only daughter of the legendary Bulgarian poet Hristo Botev – Ivanka.